Image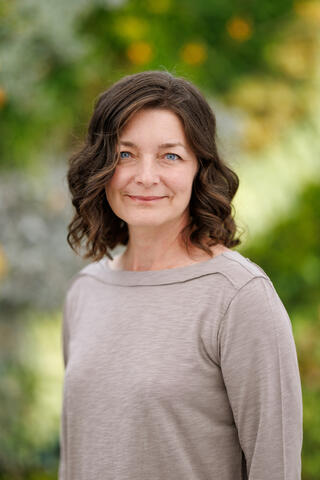 Dr. Tanya Flushman
CAR/W Co-Director, Professor
Curriculum and Instruction
California Polytechnic University, San Luis Obispo
June 2023
Dr. Tanya Flushman is a professor and literacy educator at Cal Poly San Luis Obispo, where she teaches in the MA Curriculum and Instruction program. Dr. Flushman's scholarly work focuses on literacy instruction across disciplines, improving the clinical practice experience in teacher preparation and supporting new and early career teachers. During her 10 years at Cal Poly SLO she has held several leadership roles in the School of Education including Chair of the Tenured Faculty and Coordinator of the MA Curriculum and Instruction program.
In addition to her role as a faculty member at Cal Poly SLO, Dr. Flushman has served as the Co-Director for the CSU Center for the Advancement of Reading and Writing since 2019. As Co-Director, Dr. Flushman is primarily responsible for leading the CAR/W Faculty Council including 23 faculty from across the CSU system. During her tenure in this role, she has worked hard to involve the expertise of the faculty council in solving the real issues related to literacy teacher preparation in the CSU system and the state. This includes organizing and leading all committee work amongst faculty council members (e.g., work related to diversity, equity and inclusivity, teacher performance expectations, and integration of dyslexia guidelines in literacy coursework).
Dr. Flushman has also been a leader in grant-funded initiatives to transform teacher preparation. She was the principal investigator of the New Generation of Educators Initiative (NGEI) grant at CP SLO from 2016 to 2019 that sought to partner with local school districts to design and demonstrate innovative practices that could transform teacher preparation. Currently, she is a Co-PI on a $4.1 million grant, Teacher Quality Partnership (TQP): Pathways and Partnership to Ensure Student Success, seeking to develop and strengthen pathways to teacher education for underserved students and partnerships with local districts. Her primary role is to lead team efforts around disciplinary literacy work in local districts and to support partnership efforts to develop and strengthen induction processes in districts.
Most recently, she led the collaboration between all teacher preparation programs at CP SLO to obtain a CTC grant to support the integration of the CA Dyslexia Guidelines into teacher preparation programs. At the state level, Dr. Flushman's record includes service to the Commission on Teacher Credentialing as an expert panel member for revising the literacy Teacher Performance Expectations in 2019 and, most recently, for being appointed to the CTC SB488 Literacy Workgroup.
Dr. Flushman received her doctorate in Learning, Teaching and Diversity with an emphasis in Language, Literacy and Culture from Vanderbilt University. She received a Master's degree in Curriculum, Instruction and Research from The State University of New York and earned her Multiple Subject Teaching Credential from San Francisco State University. Dr. Flushman received her BA in Modern Literary Studies from UC Santa Cruz. Prior to her work as a teacher educator, she taught elementary school students in California and in Mexico.